Preliminary Program
Faculty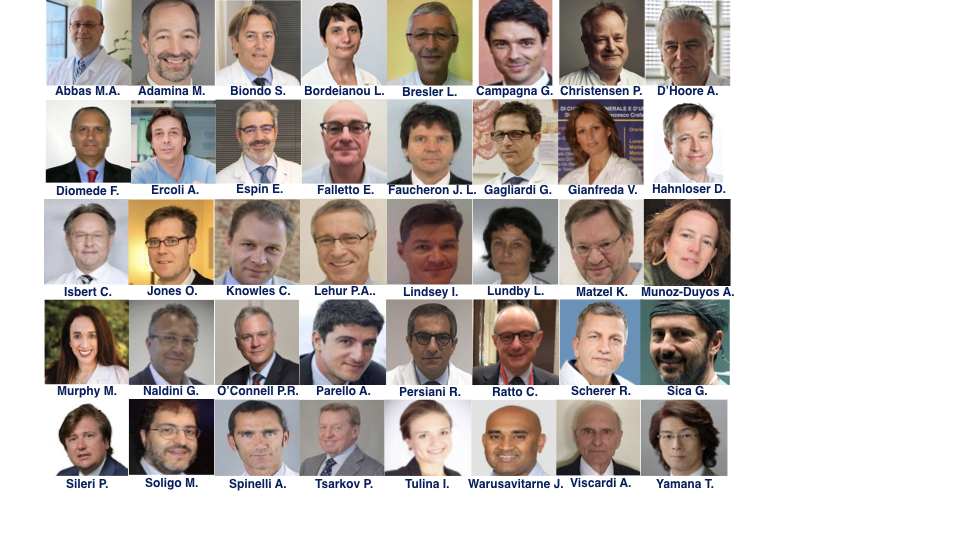 ABSTRACT SUBMISSION
Submission of abstracts concerning the Conference topics are welcome.
Please read the Instructions for Authors.
Deadline for abstract submission August 31, 2020
REGISTRATION AND FEES
** For Members of the following Scientific Societies, a special discount of 20% on
early registration fee is provided.
Please, flag your membership in the list of Scientific Societies reported below.
The Organizing Secretariat will check your membership.
***all fees are VAT 22% included. Participants applying in the category "Trainee"
(under the age of 35 years) are requested to add a copy of their identity card
or passport showing the date of birth. If this document will be not provided
before the beginning of the Congress, the fee difference will be requested
at the on-site registration.
List of applying Scientific Societies:
Italian Society of Colon & Rectal Surgeons (SICCR)
Italian Unitary Society of Coloproctology (SIUCP)
European Society of Coloproctology (ESCP)
American Society of Colon & Rectal Surgeons (ASCRS)
Deutsche Gesellschaft Koloproktologie (DGK)
Société Nationale Française Coloproctologie (SNFCP)
Asosiación Espanola de Coloproctologia (AECP)
Hellenic Society of Coloproctology
Polish Club of Coloproctology
Society of Coloproctology of Yugoslavia
Russian School of Colorectal Surgery
Turkish Society of Colon & Rectal Surgery (TSCRS)
Mexican College of Coloproctology
Brazilian Society of Coloproctology
Japan Society of Coloproctology (JSCP)
Organizing agency

/
Via N. Colajanni, 4 – 00191 Roma

Tel. (+39) 06 32 90 250 –
DIRECTIONS
FROM CIAMPINO AIRPORT:
Ciampino Airport is located just 25 km from the hotel, and is a 30 minute drive via the Roman Ring Road (GRA).
If you're not driving, the taxi fare will be around €50 and the driver will bring you to the door.
FROM FIUMICINO LEONARDO DA VINCI INTERNATIONAL AIRPORT:
Leonardo Da Vinci International Airport is 22 km from the hotel, and by taking the Roman Ring Road (GRA) the journey will take about 20 minutes in a car.
Travelling by taxi will cost you around €48.
You could also catch the shuttle service to and from Fiumicino (FCO) between 7.00 AM and 5.00 PM for just €15.00 each way. (Advance reservation is required.)
FROM TERMINI STATION
Termini Rail Station is just 10km from the hotel and can be driven to in around fifteen minutes. If you don't drive – or don't want to – a bus service is available.
Catch Bus H from Piazza Biagio Place and get off directly at Termini Station, 40 minutes later. A single ticket costs €1.50.
CITY CENTRE
The hotel is connected to Rome's city centre by Public Tram No. 8. The nearest tram stop is within walking distance of the hotel, and the tram will take you directly to Piazza Venezia in 15-20 minutes.
Bus line No. 792 will take you to see the sights of Rome, including the Basilica of Saint Paul and the Basilica of Saint John Lateran.
Bus Line H serves Piazza Argentina, Piazza Navona and Campo de Fiori.
Line 98 takes you close to St Peter's Square and within ten minute walking distance to Piazza Navona, which is across the beautiful historic center of Rome.
A.Roma also runs a shuttle service to and from the city centre between 9.00 AM and 9.00 PM for a fee of €2.00 per person. (Advance reservation is required.)
OFFICIAL LANGUAGE
English will be the official language
HOTEL

/ don't forget booking your room
Making your hotel reservation early is strongly suggested.